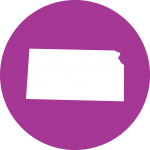 High-quality early childhood education is proven to dramatically improve a child's opportunities for a better future—particularly children from low-income families. If we, as a nation, want to ensure all children have access to high-quality early learning, there must be strong support and partnerships from federal government to extend the reach or fill in the gaps of state efforts and innovation.
This fact sheet provides an abbreviated overview of state- and federally-funded early childhood opportunities in Kansas, which serve more than 90,000 children and families.
"Thank you to the legislature for the remarkable investments you have made in early childhood education. Early childhood education works." – Outgoing Governor Jeff Colyer (R-KS)
"I pushed for the creation and funding of early childhood block grants to ensure that more kids enter kindergarten ready to learn. It's really not rocket science: Put kids on the right path at an early age — and keep them there. It's how they succeed; it's how their families succeed and it's how Kansas succeeds." – Governor-Elect Laura Kelly (D-KS)
Click here to view all state fact sheets.
Download PDF