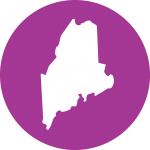 High-quality early childhood education is proven to dramatically improve a child's opportunities for a better future—particularly children from low-income families. If we, as a nation, want to ensure all children have access to high-quality early learning, there must be strong support and partnerships from federal government to extend the reach or fill in the gaps of state efforts and innovation.
This fact sheet provides an abbreviated overview of state- and federally-funded early childhood opportunities in Maine, which serve more than 40,000 children and families.
"Child care is not only important to the developmental health of children, but also to the well-being of their parents. When parents know that their children have a place to go where they will be safe and where they will learn, then the parents have more opportunity to earn a living to support their family." – Senator Susan Collins (R-ME)
"Quality child care makes a major difference in the lives of young people in Maine and across the country, and we should be doing everything in our power to make it affordable and accessible for working families." – Senator Angus King (I-ME)
Click here to view all state fact sheets.
Download PDF