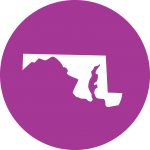 High-quality early childhood education is proven to dramatically improve a child's opportunities for a better future—particularly children from low-income families. If we, as a nation, want to ensure all children have access to high-quality early learning, there must be strong support and partnerships from federal government to extend the reach or fill in the gaps of state efforts and innovation.
This fact sheet provides an abbreviated overview of state- and federally-funded early childhood opportunities in Maryland, which serve more than 200,000 children and families.
"Early learning programs are critically important to the development of our youth and provide a foundation of educational support for children from economically disadvantaged households." – Governor Larry Hogan (R-MD)
"High-quality early childhood education is one of our best tools against poverty and income inequality." – Representative Elijah Cummings (D-MD)
Click here to view all state fact sheets.
Download PDF