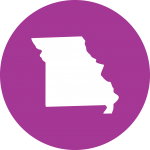 High-quality early childhood education is proven to dramatically improve a child's opportunities for a better future—particularly children from low-income families. If we, as a nation, want to ensure all children have access to high-quality early learning, there must be strong support and partnerships from federal government to extend the reach or fill in the gaps of state efforts and innovation.
This fact sheet provides an abbreviated overview of state- and federally-funded early childhood opportunities in Missouri, which serve more than 150,000 children and families.
"Making sure babies and toddlers have access to early education and medical care is vital to their development and overall well-being… I'll continue prioritizing investments in federal programs that help families create a better future for their children."
– Senator Roy Blunt (R-MO)
"Simply put, there is no better investment we can make than investing in our children before their first day of kindergarten. Congress should listen to governors from across the country and leverage federal resources to expand access to high-quality early learning programs that allow children in low-income households to enter school ready to learn." – Outgoing Senator Claire McCaskill (D-MO)
Click here to view all state fact sheets.
Download PDF