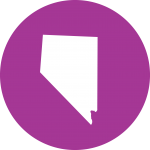 High-quality early childhood education is proven to dramatically improve a child's opportunities for a better future—particularly children from low-income families. If we, as a nation, want to ensure all children have access to high-quality early learning, there must be strong support and partnerships from federal government to extend the reach or fill in the gaps of state efforts and innovation.
This fact sheet provides an abbreviated overview of state- and federally-funded early childhood opportunities in Nevada, which serve more than 60,000 children and families.
"It is critical that we provide every child the opportunity to succeed in the classroom, starting with our youngest learners. These funds deliver the necessary resources for our most at-risk students to enter kindergarten on equal footing with their peers, giving them the foundation for continued success throughout their academic career. At the beginning of my Administration we recognized an unfulfilled demand for investment in early childhood education and committed ourselves to addressing this need." – Governor Brian Sandoval (R-NV)
"Too many children in our state are born without the resources they need to learn, grow, and prepare for school. Early Head Start is a federally funded program that makes sure that babies and toddlers born in low-income families get access to comprehensive child development and family support services. Every single child in Nevada, regardless of income level, deserves the best possible start in life. I'm proud to announce more than $1,000,000 in grant funding from the Department of Health and Human Services to benefit vulnerable kids and families in Nevada." – Senator Catherine Cortez Masto (D-NV)
Click here to view all state fact sheets.
Download PDF