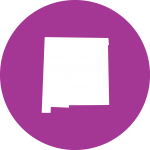 High-quality early childhood education is proven to dramatically improve a child's opportunities for a better future—particularly children from low-income families. If we, as a nation, want to ensure all children have access to high-quality early learning, there must be strong support and partnerships from federal government to extend the reach or fill in the gaps of state efforts and innovation.
This fact sheet provides an abbreviated overview of state- and federally-funded early childhood opportunities in New Mexico, which serve more than 60,000 children and families.
"It's so important that our youngest students have access to early education – that's why I made it a top priority and continue to invest in programs that work. As a state, we must grow Pre-K responsibly so that all children receive a high quality education and a successful future." – Outgoing Governor Susana Martinez (R-NM)
"Investing in our children's education from a young age pays off – not just by making sure every child is ready for kindergarten, but by laying the foundation that ensures they grow up ready to succeed in the 21st-century economy. But too many families in New Mexico can't find quality early childhood education programs, and we owe it to our kids to do better…High-quality early education is a gateway to opportunity, and every child deserves their fair shot." – Senator Tom Udall (D-NM)
Click here to view all state fact sheets.
Download PDF