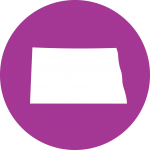 High-quality early childhood education is proven to dramatically improve a child's opportunities for a better future—particularly children from low-income families. If we, as a nation, want to ensure all children have access to high-quality early learning, there must be strong support and partnerships from federal government to extend the reach or fill in the gaps of state efforts and innovation.
This fact sheet provides an abbreviated overview of state- and federally-funded early childhood opportunities in North Dakota, which serve more than 20,000 children and families.
"North Dakota's most valuable resource is our children, and their working parents are the foundation of our economy… available and quality child care is vital to children and their working parents, and has a direct impact on the economy of our state." – Governor Doug Burgum (R-ND)
"No matter where a child is born they deserve access to a high quality education from an early ages through adulthood… Investing in early childhood education has proven to set kids up for success throughout their lives that leads them to become productive members in communities across North Dakota. These federal funds will support Minot and Fargo children to enter Head Start and Early Head Start programs and receive the education they need." – Outgoing Senator Heidi Heitkamp (D)
Click here to view all state fact sheets.
Download PDF