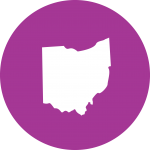 High-quality early childhood education is proven to dramatically improve a child's opportunities for a better future—particularly children from low-income families. If we, as a nation, want to ensure all children have access to high-quality early learning, there must be strong support and partnerships from federal government to extend the reach or fill in the gaps of state efforts and innovation.
This fact sheet provides an abbreviated overview of state- and federally-funded early childhood opportunities in Ohio, which serve more than 250,000 children and families.
"We also have to pay attention to early childhood education. We can't have people who are extremely poor where they can't have the kind of development in their brains that they need."
 – Governor John Kasich (R-OH)
"Our challenge is to ensure that no matter what the setting, the quality of education and care allows children to develop to their full potential. I am proud that my state of Ohio has made early childhood education a priority and is working to build a comprehensive, integrated system."

– Senator Sherrod Brown (D-OH)
Click here to view all state fact sheets.
Download PDF