Happy Birthday, Head Start! Bipartisan Praise for this Vital Program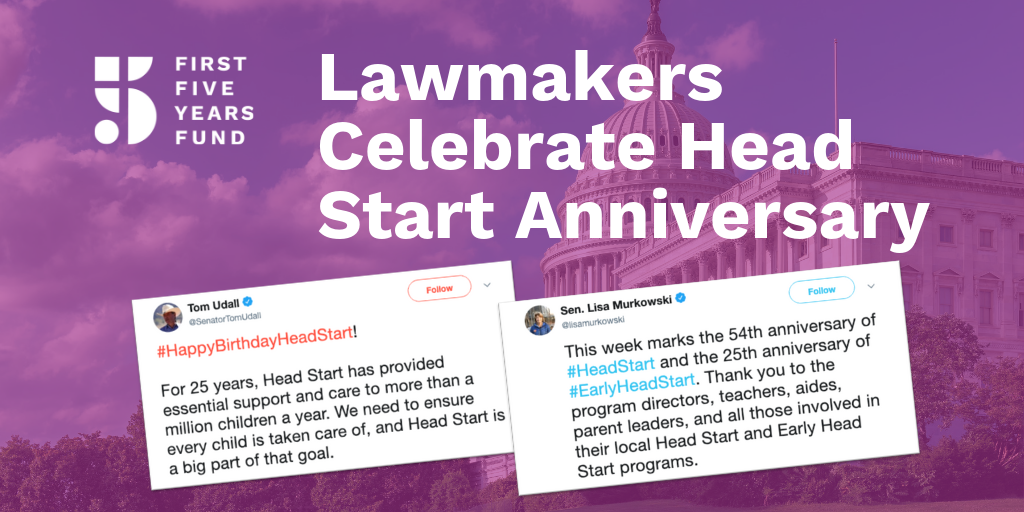 Saturday marked the 54th anniversary of the federal Head Start program. Head Start delivers comprehensive early learning, health, nutrition, and family support services to children ages 3 through 5 living in poverty and their families, with Early Head Start supporting infants and toddlers.
Since its founding in 1965 as part of President Lyndon B. Johnson's War on Poverty, Head Start has served over 36 million low-income children and families. Because of the overwhelmingly positive impact the program has had over the past 5 decades, Head Start enjoys broad bipartisan support among voters – and lawmakers on Capitol Hill.

During this week of celebration honoring the role Head Start plays in states and communities across the country, Members of Congress on both sides of the aisle showed their support for this vital program, with many using the hashtag #HappyBirthdayHeadStart with our friends at the National Head Start Association:
"This week marks the 54th anniversary of #HeadStart and the 25th anniversary of #EarlyHeadStart. Thank you to the program directors, teachers, aides, parent leaders, and all those involved in their local Head Start and Early Head Start programs."
"#HappyBirthdayHeadStart! For 25 years, Head Start has provided essential support and care to more than a million children a year. We need to ensure every child is taken care of, and Head Start is a big part of that goal"
"A good education opens a lot of doors in life. I have been a strong supporter of Head Start throughout my time in Congress because I believe in the potential of every West Virginia child. By supporting programs that give our children the tools they need to be successful in the classroom and beyond, we can help ensure their future is filled with opportunity."
"Head Start provides children with a strong educational foundation that allows them to grow and succeed. This important funding will help build an educational foundation for children in York County and provide parents with access to the services they need during their children's formative years."
"#HeadStart celebrates its 54th birthday, & Early Head Start also celebrates its 25th anniversary this year. I submitted a statement to the Congressional Record recognizing the important impact this program has on the children and families of NJ. #HappyBirthdayHeadStart"
"#HeadStart is celebrating its 54th anniversary, & Early Head Start is celebrating its 25th anniversary! These wonderful programs have opened the doors of opportunity for millions of children across the country. I look forward to what they will accomplish in the years to come.
Congresswoman Elaine Luria (D-VA-2)
"I am excited to announce Head Start's 54th birthday! This important program has put 3,800 Coastal Virginian children in school and employed 1,500 people in our area. I want to thank @HeadStartGov for their work in getting our children the education they deserve."
"On the 54th anniversary of Head Start & as a long-time supporter of this program, I'm proud to announce that Head Start programs in #CA26 will receive $18M+ in federal funds to expand early learning programs in #CA26 to set up our most vulnerable children for a brighter future."
"#HappyBirthdayHeadStart! Over its 54 years, 36+ million families have been helped by the academic, health, and nutrition services Head Start offers!"
"Happy Anniversary to Head Start! For 54 years, this essential program has given more than 36 million children a leg up in their education and development. I will continue fighting for strong support of this important source of early childhood education and development."
Read more about the importance of early childhood education, Head Start & Early Head Start here.
Subscribe to FFYF First Look
Every morning, FFYF reports on the latest child care & early learning news from across the country. Subscribe and take 5 minutes to know what's happening in early childhood education.