Survey: Only 1/4 of Child Care Providers Received PPP Funds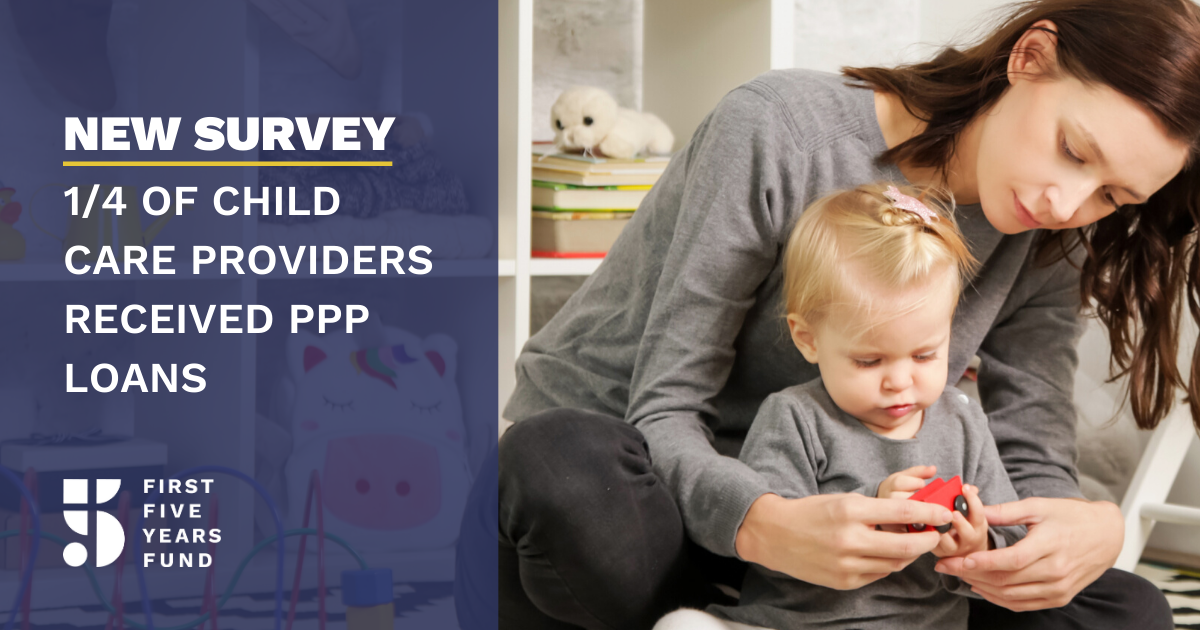 The National Association for the Education of Young Children (NAEYC) released the findings of a recent follow-up survey of child care providers who applied for relief under the Paycheck Protection Program (PPP), which was intended to help small businesses keep their workers on the payroll and stay afloat during the COVID crisis to avoid closing permanently. Loans provided through this program will be forgiven by the SBA if all employees are kept on the payroll for eight weeks and funds are used for payroll, rent, mortgage interest, or utilities. The survey found that only one-quarter of the child care market received PPP loans. The findings confirm what we feared: the child care industry, especially home-based providers, are experiencing serious challenges in accessing PPP and its critical benefits.
Major takeaways of this new survey:
Of the half of child care programs who reported that they applied for the Paycheck Protection Program, half of those were approved for the loan; this would be equivalent to approximately one-quarter of the child care market receiving PPP loans.
At the time of their response, 12% of those who had applied had been denied and another 33% had not heard back yet.

Of those who were denied, 55% were family child care home.

Rates of approval were slightly higher for borrowers who were previous clients of their lender (57% approval rate for previous clients vs. 49% approval rate for applicants who were not).

For family child care homes, approval rates were lower regardless of previous client status; if they were clients, they confronted a 27% approval rate, while those who were not previous clients saw a 23% approval rate.

Reflecting the range of small business settings and size in the child care field, the amount of the loans varied significantly:

38% of respondents reported that their loan amounted to less than $50,000
25% reported that it amounted to between $50,000 and $100,000
30% reported that it amounted to between $100,000 and $150,000
6% reported that it amounted to between $250,000 and $500,000

All of the family child care homes reported a loan amount of $50,000 or less.
According to the survey results, the reasons given to providers who applied for PPP loans and were denied were a lack of funding, problems with credit scores, or the lack of business checking accounts — despite the SBA not having a credit score or business checking account requirements.
A previous survey of 5,000 child care providers conducted by NAEYC found nearly half of child care providers had completely closed their facilities, and 53 percent of child care center-based providers and 25 percent of home-based providers had applied for a PPP loan in an effort to keep their business operating through this crisis and after it is over. It also found that a staggering 69 percent of providers expressed concerns about taking on additional debt or loans and are worried about having to pay them back.
While significant steps have been taken by Congress to support small businesses in the CARES Act, the data shows that the child care industry, which comprises approximately 675,000 child care businesses, is not receiving the dedicated funding it needs to stay afloat. As Congress negotiates any future economic relief package, it is imperative that they include relief that matches the unique needs of the child care industry. That is why FFYF and a coalition of the nation's leading early learning and care organizations wrote to Congress with recommendations to provide substantial relief to child care providers.
Subscribe to FFYF First Look
Every morning, FFYF reports on the latest child care & early learning news from across the country. Subscribe and take 5 minutes to know what's happening in early childhood education.