Biden Unveils Child Care & Early Learning Campaign Proposal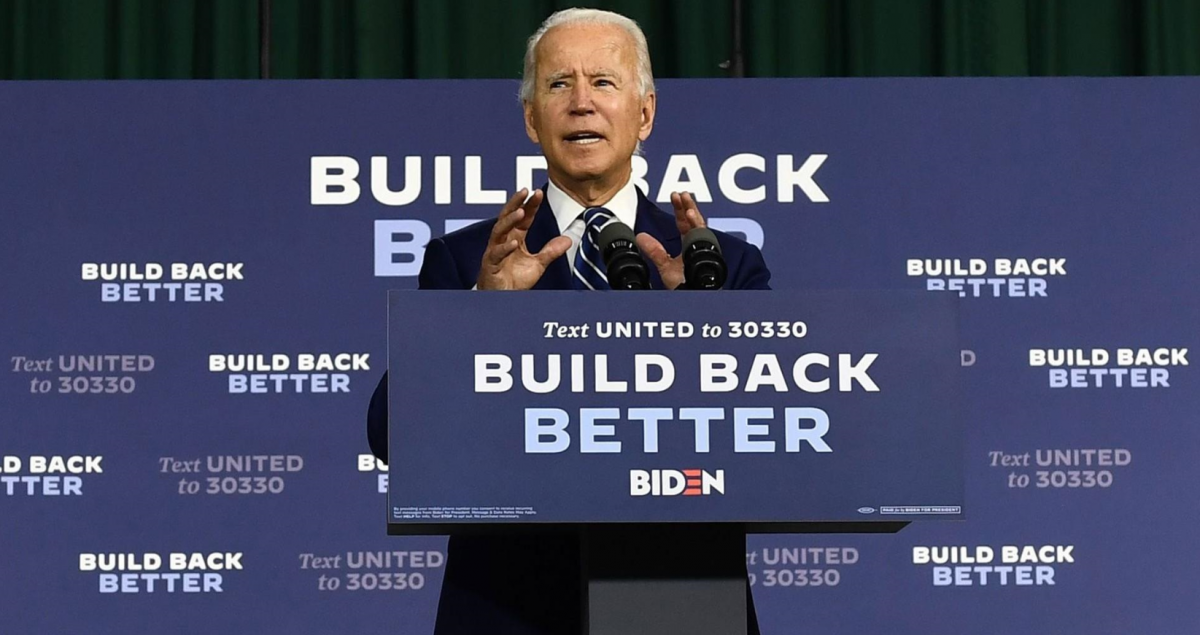 Speaking at an early childhood education center in New Castle, DE, this week, former vice president and presumptive Democratic presidential nominee Joe Biden unveiled his campaign proposal to expand access to high-quality child care and early learning. The child care proposals are part of a larger economic recovery package aimed at investing in a "21st century education and caregiving workforce."
Watch Vice President Biden's remarks, which were carried live by a number of national television networks.
---
Child care has become a central campaign issue among Democratic and Republican candidates for office at all levels of government – including president. And voters of every political persuasion, according to FFYF's years of national bipartisan polling, say more should be done to ensure all children – particularly those living in poverty – have access to high-quality early learning and care opportunities. Just this week, a new poll commissioned by FFYF and our partners at the Center for American Progress showed more than 8 in 10 voters favor a federal child care stabilization fund in the upcoming COVID-19 recovery package, with overwhelming support across partisan lines, generations, and genders.
---
Affordable High-Quality Child Care and Universal Preschool
Provide all 3- and 4-year-olds access to free, high-quality preschool. To facilitate parental choice, will partner with states to provide a mixed delivery system that includes public school systems, child care centers and family child care providers, and Head Start.
Offer a refundable tax credit of up to $8000 for child care.

Families will receive as much as half of their spending on child care for children under age 13, up to $8,000 for one child or $16,000 for two or more children.
The full 50% reimbursement will be available to families making less than $125,000 a year, and families making between $125,000 and $400,000 will receive a partial credit.

Provide access to affordable, high-quality child care on a sliding scale for low-income and middle-class families. For young children ages 0-5, will adopt the child care program in the Child Care for Working Families Act:

Partner with states to provide sliding scale subsidies so the cost of child care for low-income and middle-class families will be based on what they can afford—costs are capped at 7% of income for families earning below 1.5 times the median income in their state (typical family will pay no more than $45 per week).
Set aside a portion of the funds for tribes to expand access to quality child care for Native children, as well as for outlying areas including U.S. territories.

Invest in quality child care standards and a well-trained and well-compensated child care workforce.

Partner with states to ensure providers meet rigorous quality standards, including developmentally appropriate curriculum, small class sizes, and support positive interactions that promote children's socio-emotional development
Provide funding "reflective of the true cost of quality care."
Invest in strategies to retain and grow the pool of diverse, talented early childhood educators and give them the time, resources, and support (coaches, training, and education opportunities for certification, and financial stability) they need to provide children an excellent education.
Expand access to care that works for working parents.

Provide incentives for providers to fill critical child care shortages, including in the early mornings, evenings, and weekends, and in rural communities that have few providers.
Offer bonus payments to providers who operate during nontraditional hours and create a Child Care Growth and Innovation fund that will provide grants to programs filling essential needs, including expanding access to high-quality care for families with high barriers to care.
Ensure families "will be able to choose high-quality child care that works for them, whether a child care center, home-based care with a family child care provider, or an informal arrangement with a friend, family member, or neighbor."
Ensure Early Head Start is an option for families that will benefit from comprehensive family support and child development resources, including through doubling Early Head Start-Child Care Partnerships.

Ensure families with school-aged children have expanded access to after-school, weekend, and summer care.

Expand Child Care Development Block Grant subsidies to increase the number of school-aged children up to age 13 in low-income families who can benefit from the program.
Allow low- and middle-income families to take advantage of Biden's expanded, refundable tax credit to help cover after-school, weekend, and summer care costs.
Expand support for community schools, which often provide before, after-school, and summer learning opportunities, and increase funding for after-school programs, community centers, and extracurriculars to keep children safe, learning, and having fun when school is not in session. This includes expanding the 21st Century Community Learning Centers that provide critical enrichment opportunities for school-aged children.

Invest in child care and other wraparound services at community colleges.
Expand access for military children to the quality child care DoD provides by fully funding installation-based child care facilities and expanding awareness of the DoD fee assistance program.
As part of public schools plan, triple Title I funding; fully-fund IDEA; fund community schools; and double the number of psychologists, counselors, nurses, social workers, and other health professionals in our schools so our kids get the mental health care they need.
Build Safe Child Care Facilities
Create a new child care construction tax credit to encourage businesses to build child care facilities at places of work. Employers will receive 50% of the first $1 million of construction costs per facility.
Make direct investments in building new child-care facilities and upgrading existing facilities that are not accessible for people with disabilities or safe or developmentally appropriate for young children.
Facility investments will require high quality standards, including ensuring they are healthy, energy efficient, climate resilient, developmentally appropriate places to learn and accessible for children with disabilities, and high labor standards for the people who build the facilities.
Reward Caregivers and Educators with the Benefits and Protections They Deserve
Increase pay by setting standards for the funding allocated under this plan and ensuring early childhood educators in child care settings and public schools receive similar pay and benefits to elementary school teachers if they have similar qualifications and experience.
Provide affordable health care through their jobs or Biden's new public option, federally-provided paid family and medical leave for up to 12 weeks, up to 7 days of paid sick leave, and affordable child care for their own children.
Provide stronger legal protections and the choice to join a union and collectively bargain by signing the Protecting the Right to Organize (PRO) Act and providing local and state government workers with bargaining rights, fully restoring collective bargaining to federal government workers, and also improving the conditions of many care jobs by signing into law the Domestic Workers' Bill of Rights.
Offer training and career ladders.

Expand opportunities to earn needed credentials by investing in high quality training and education programs that lead to a certificate, as well as ongoing, job-embedded training and professional development through programs like labor-management training and registered apprenticeships.
Work with employers, unions and worker organizations, community colleges, the public workforce system, and organizations representing older Americans and people with disabilities and early childhood educators to modernize and develop new training programs for these jobs.
Provide funding for states to hire coaches for early childhood educators to continuously help them deliver high-quality learning experiences.
Create opportunities for workers to further upskill, while building a pipeline of diverse early educators, through the Biden plan for Education Beyond Highschool.
---
Subscribe to FFYF First Look
Every morning, FFYF reports on the latest child care & early learning news from across the country. Subscribe and take 5 minutes to know what's happening in early childhood education.