New Chamber Data Shows Impact of Child Care Challenges on American Employers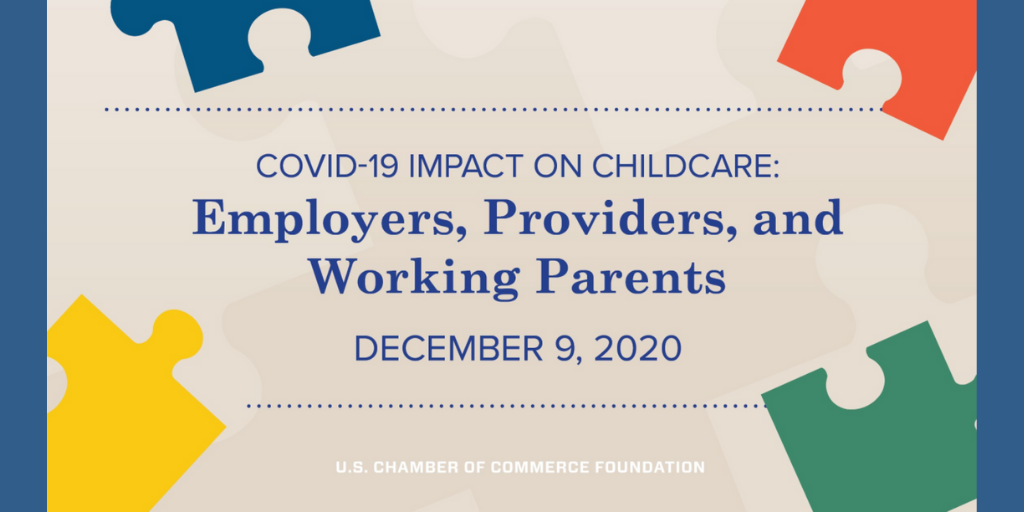 Building on previous research, the U.S. Chamber of Commerce Foundation recently released new data outlining the pandemic's continued pressure on working parents and employers.
The survey, conducted in September and October, found that child care remains a challenge for working parents — and also impacts employers. In an earlier summer survey, 24% of employers reported they were concerned that employees may need to leave the workforce because of the pandemic. In the Foundation's recent survey, 32% of employers have seen some of their employees leave the workforce due to the effects of COVID-19.
And while employees, especially mothers, may be leaving the workforce, parents remaining in the workforce are also debating working fewer hours. This attrition is especially pronounced in certain sectors of the economy including education and health care. In health care, more than three-quarters of employers reporting employee departures cite child care concerns as a contributing factor. 
The vast majority, 89%, of employers feel aware of the child care needs of their employees. Employers reported supporting working parents in numerous ways, most commonly by providing flexible working hours and remote work as additional child care benefits. 28% of employers also reported offering paid leave as another support.
The Foundation's survey found that many employers were willing to increase their investment in child care to meet the needs of their workforce, but were unsure of how to support working parents or were unsure they would be able to afford additional assistance. 49% of employers would be likely to provide additional child care assistance if the government offered supplementary incentives.
As the country considers our long-term economic recovery, child care remains essential. The U.S. Chamber of Commerce Foundation is hosting a webinar to discuss the pandemic's impact on child care on December 9, 2020. You can register here. You can view the complete report here.
Subscribe to FFYF First Look
Every morning, FFYF reports on the latest child care & early learning news from across the country. Subscribe and take 5 minutes to know what's happening in early childhood education.