ACF, Labor, and Education Joint Webinar Highlights the Role of ECE Apprenticeships in Addressing Workforce Shortages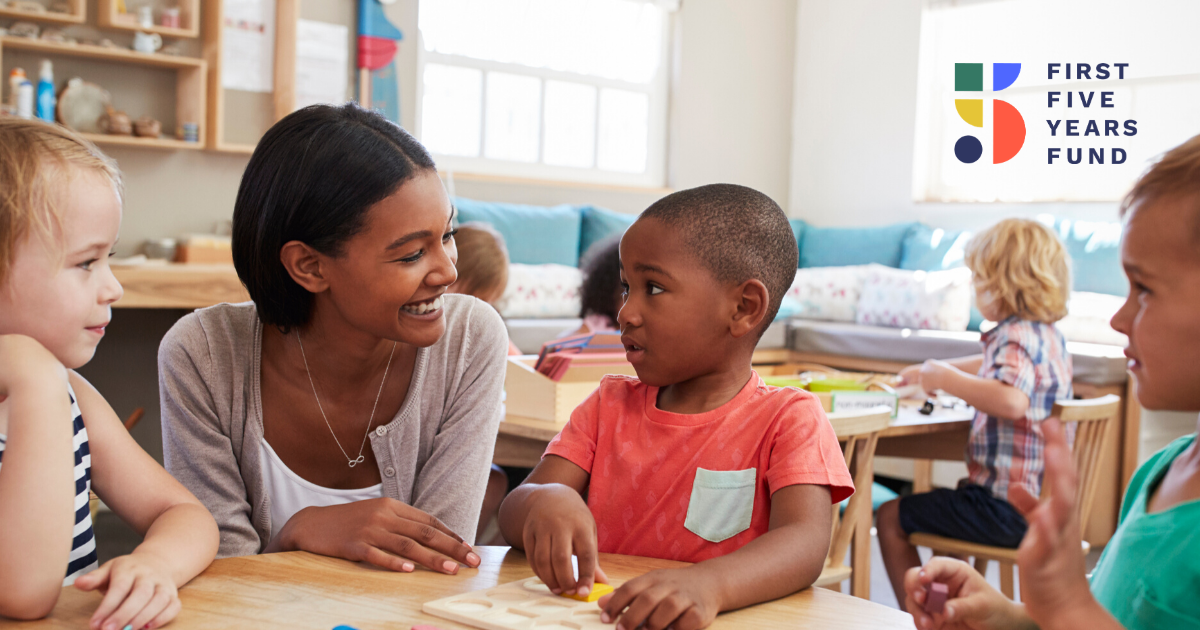 Last week, the U.S. Department of Health and Human Services' Administration for Children and Families (ACF), the U.S. Department of Labor (DOL), and the U.S. Department of Education (ED) co-hosted a webinar to provide an overview of registered apprenticeships (RA), share available resources to develop and support early care and education (ECE) apprenticeship programs, and to highlight successful national, state, and local models.
Amid unprecedented workforce shortages in the early learning sector, ECE apprenticeships are a proven strategy to grow the supply of well-qualified providers and educators, which are vital to providing high-quality early learning and care to children from birth through age five. Apprenticeships offer "earn as you learn" opportunities to individuals, while also allowing employers to improve the quality and effectiveness of their workforce. RAs are recognized by the DOL and provide paid on-the-job training and mentoring, as well as classroom-based education and instruction, culminating in a nationally recognized credential. The apprenticeship model overlays well with the early childhood delivery system, allowing new and existing ECE staff to pursue additional training while continuing to work with children.
In her opening comments, Katie Hamm, ACF Deputy Assistant Secretary for Early Childhood Development, spoke about the importance of bringing all three agencies together to address critical shortages in the ECE workforce, which is still at 89% of pre-pandemic levels. These shortages impact families' ability to go to work, as well as children's access to early learning opportunities. In addition to other strategies to grow the workforce, ECE apprenticeships play an important role in helping early educators earn a credential and in building a pipeline for educators to enter and remain in the workforce.
Similarly, Katherine Neas, Deputy Assistant Secretary, ED Office of Special Education and Rehabilitative Services, spoke about the role of ECE apprenticeships in ensuring well-trained staff and opening doors to postsecondary education. Wendy Chun-Hoon, Director of the DOL Women's Bureau, noted that employment numbers for women are still down post pandemic, with 1.6 million women short of full recovery, and in April, 3.7 million women reported a child care disruption in the last 4 weeks. ECE apprenticeships offer opportunities for the ECE workforce, which is predominantly women, to improve skills and earn higher wages, as well as to improve access to high-quality care for families, particularly mothers, who more often adjust their schedules and careers to care for their children.
The webinar also included two panel presentations. The first provided an overview of RAs and how to use existing resources to expand and enhance ECE apprenticeship models.
Panelists included:
Brent Parton, Senior Advisor, Office of Apprenticeships, Employment and Training Administration, U.S. Department of Labor
Megan Baird, Deputy Administrator, Office of Apprenticeships, Employment and Training Administration, U.S. Department of Labor
Andrew Ridgeway, Division Director of Registered Apprenticeship & Policy, Office of Apprenticeships, Employment and Training Administration, U.S. Department of Labor
Teresa Collins, Executive Director, District 1199C Training & Upgrading Fund
Daniel Bustillo, Executive Director, Healthcare Career Advancement Program
Next, a panel representing national, state, and local ECE apprenticeship programs offered their expertise and insights.
Panelists included:
Randi Wolfe, Ph.D., Executive Director, Early Care & Education Pathways to Success (ECEPTS)
Pamm Shaw, Director, Strategic Funding and Partnerships, YMCA of the East Bay
Edith Locke, SVP of Professional Development Initiatives, Child Care Services Association
Megan Burk, T.E.A.C.H. Early Childhood® National Center, Child Care Services Association
Dr. Barbara J. Cooper, Ph.D., Secretary, Alabama Department of Early Childhood Education
Brenda Hagan, Apprenticeship Project Specialist, Kentucky Governor's Office of Early Childhood
View the full webinar here.
Subscribe to FFYF First Look
Every morning, FFYF reports on the latest child care & early learning news from across the country. Subscribe and take 5 minutes to know what's happening in early childhood education.