Parents, Providers, Major Orgs Sound the Alarm: Congress Cannot Leave Child Care Behind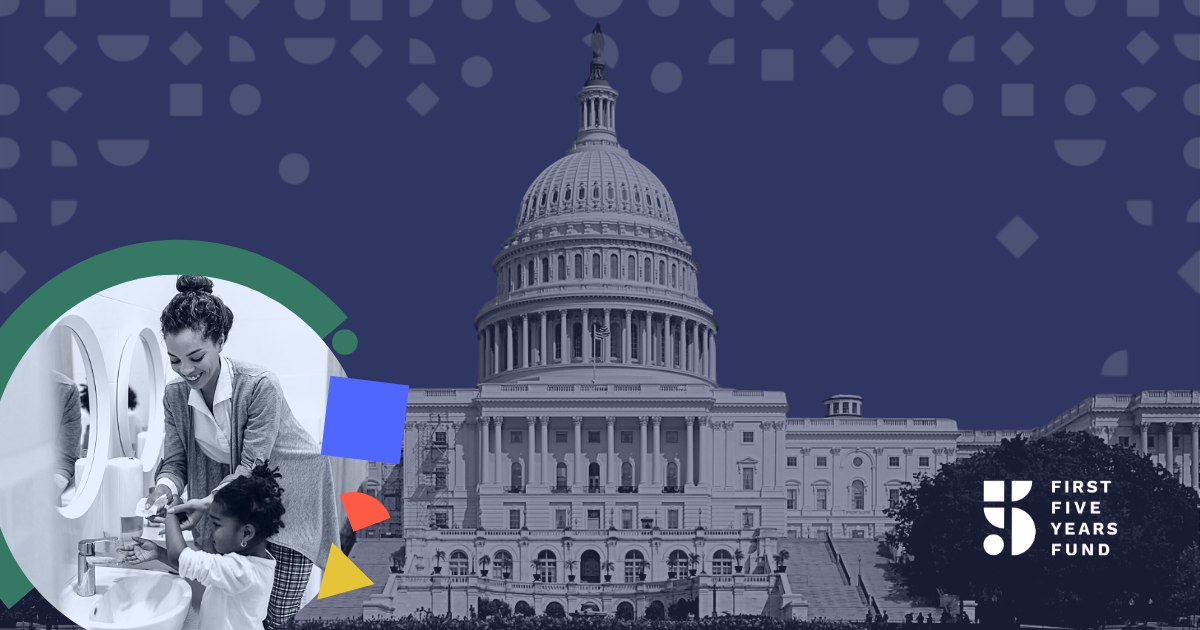 Major organizations, parents, and providers alike are sounding the alarm yet again; this week, FFYF joined NAEYC and nearly 100 national organizations in calling on Congress to ensure any reconciliation package includes critical investments for child care. As they wrote, "Child care and early learning are foundational supports for families and the American economy that have been under-resourced for far too long and nearly decimated by the pandemic." The letter was also signed by 5,416 child care providers, parents, early learning advocates, and individuals from all 50 states.
Today, FFYF Executive Director Sarah Rittling also released the following statement:
"Working parents, especially mothers, can't afford to go back to work because child care costs far outweigh the paycheck they're bringing home. An investment in America's child care sector would have an immediate and measurable impact on working families and our economy at a time when the country is struggling through the worst inflation in a generation. Child care is an integral pillar to supporting a robust economy, with 27 million Americans relying on it to go to work. But, for decades it's been one of the most unaffordable expenses for families, with its price tag growing considerably faster than almost any other household necessity. Costs continue to go up as waitlists get longer, and providers face an uncertain future with every day that Congress does not pass an economic package with sustained, significant funding for the sector. Congressional inaction on child care is simply not an option for women, families, or businesses – allowing the sector to slip closer towards collapse will only continue to keep parents out of the workforce and wreak havoc on our economy. The only solution is a significant, sustained investment from Congress to build an early learning system that actually works."
A recent analysis by Brookings found that a federal investment in early learning and care will reduce the impact of inflation on working families by increasing women's labor force participation and raising the nation's output and income; and reducing existing child care expenses to create room in families budgets' for other expenses. And, June CPI numbers show even with recent, drastic increases, surges in the costs of food, groceries, and housing still pale in comparison to child care.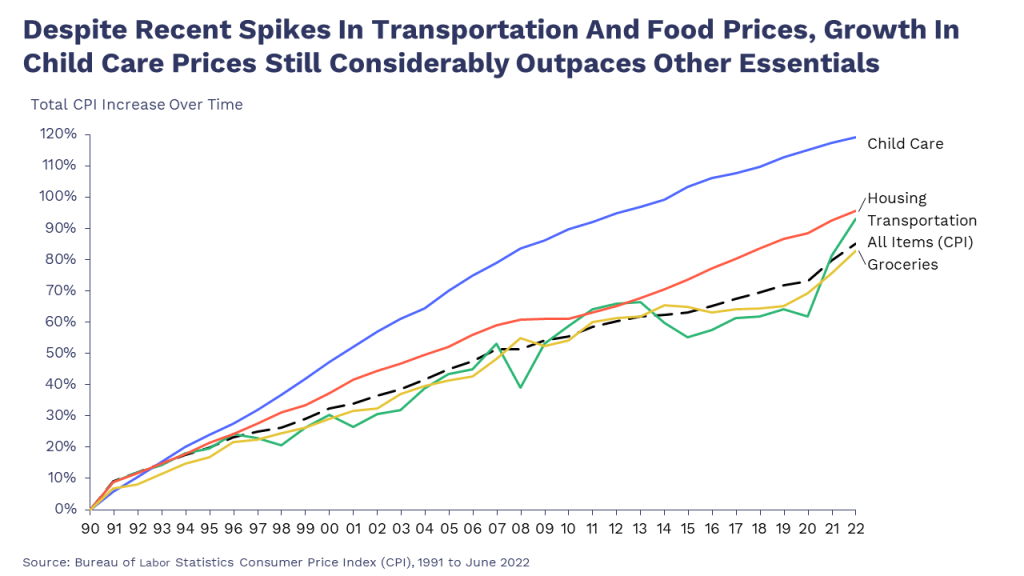 Top of mind, too, for providers, businesses, and lawmakers alike is that federal pandemic relief funding for child care providers, which is buttressing the already-struggling child care market, runs out on September 30th, 2024 – which is just 36 days before Election Day 2024. COVID-relief temporarily offered the nation's families and businesses, including child care providers, the economic lifeline that they desperately needed.

From the letter to Members of Congress:
"Through federal relief dollars including those in CARES and the American Rescue Plan Act, Congress saved the child care system from complete freefall. These supports have temporarily staved off the worst of massive program closures, but the depths of the challenges are such that the early childhood workforce continues to face deep uncertainty and staffing shortfalls that are making child care harder for parents to find and afford.
"Without immediate Congressional action to provide additional federal investments in child care and early learning, this dire situation is likely to worsen as states and programs realize that additional support is not forthcoming, and current federal relief funding is set to run out in 2024. In fact, 75% of child care providers say that the end of stabilization grants will be devastating to their programs."
If Congress does not include a significant child care investment in reconciliation, America's child care system will face an estimated $48 billion funding cliff upon expiration of federal child care relief funding, which Congress passed during the pandemic to shore up an already struggling child care market. Fourteen states are facing shortfalls of more than $1 billion dollars.
92% of America's child care providers who received federal relief funding say these grants helped keep their businesses open.
An analysis from The Century Foundation found that the American Rescue Plan funds — building on the earlier federal COVID-19 relief funds — helped temporarily prevent nearly 75,000 permanent child care closures, saving more than 3 million spots, or one-third of the nation's total child care spots, for young children.
75% of providers say that the end of stabilization grants will be devastating to their programs.
Even with the relief provided by the child care stabilization program, two-thirds of child care providers are experiencing a staffing shortage that affects their ability to serve families; 52% of those with staffing shortages have been forced to serve fewer children while 37% have had a longer waiting list.
Subscribe to FFYF First Look
Every morning, FFYF reports on the latest child care & early learning news from across the country. Subscribe and take 5 minutes to know what's happening in early childhood education.