WH Report Confirms Federal Relief Funding Supported over 200,000 Providers in the Child Care Sector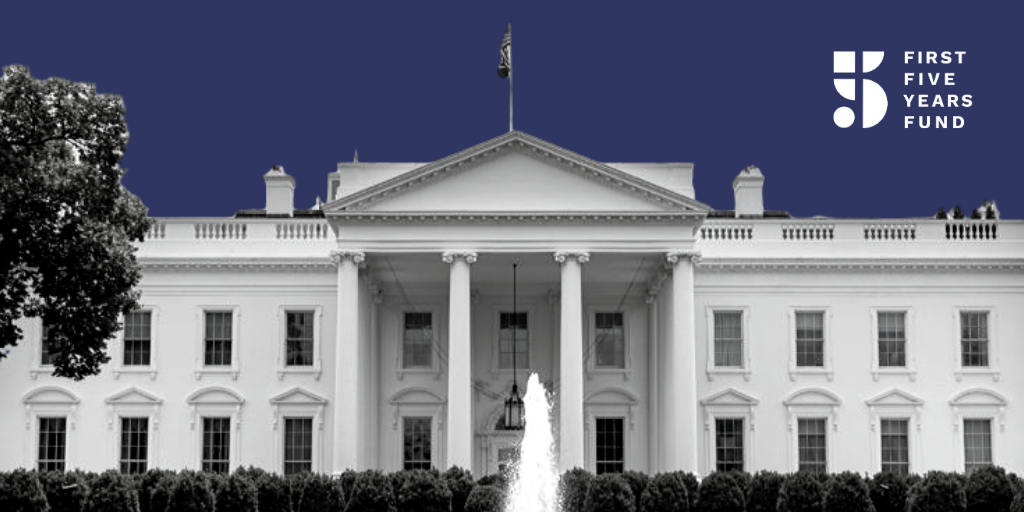 Now Congress Must Come Together and Provide Long Term Solutions Before a Devastating Cliff
The White House has released a new report detailing how dedicated federal relief funding for child care through the American Rescue Plan Act (ARPA) offered a lifeline to the nation's early education sector amidst a pandemic that was devastating to an already-struggling industry. Without question, the entirety of the temporary relief funding passed by Congress during the COVID crisis, including ARPA, was effective in supporting the child care market and preventing it from collapse. Now, as states and providers face the impending expiration of federal dollars, lawmakers must work to pass sustainable solutions to ensure parents have access to the affordable, quality child care they rely on to go to work and provide for their family.
"Federal child care relief offered our nation's families, businesses, and providers a lifeline that they desperately needed," said First Five Years Fund Executive Director Sarah Rittling. "But, the federal government's role in keeping tens of thousands of child care providers in business – which allowed millions of parents to go to work – also put a bright spotlight on the foundational flaws of our nation's child care sector. Unlike other industries, the U.S. child care system continues to struggle to get back to pre-pandemic levels, which were already inadequate and serving only a fraction of U.S. families. The White House report confirms that relief funding kept an already struggling industry afloat, serving as an excellent example of just how effective federal investments in early learning can be. Now that this crucial, temporary funding has prevented the pandemic from completely devastating the child care sector, it's time lawmakers begin to look at long term policy and funding solutions that will sustain high quality accessible and reliable child care in this country."
Relief funding gave critical assistance to families who rely on child care and to a child care industry that would have completely collapsed without an infusion of emergency funding provided by Congress and the administration. The report found that, amongst other things, the funds:
Helped more than 200,000 child care providers keep their doors open to as many as 9.5 million children, ensuring their parents could go to work.
Assisted providers in employing more than 1 million child care workers
Provided relief to 50 states, Washington, D.C., Puerto Rico, Guam, Northern Mariana, and the U.S. Virgin Islands
While these numbers are encouraging, the funding provided through ARPA is temporary and does not address the long-term flaws that hold America's child care back from truly meeting the needs of parents and employers alike. As U.S. jobs numbers continue to go up, the child care sector still remains 100,000 jobs short of pre-pandemic numbers, impacting at least 400,000 children's abilities to access care that parents need to go to work. Now, as states are creating their budgets, governments are finding themselves facing an estimated $48 billion funding cliff upon expiration of the federal child care relief funding. Fourteen states are facing shortfalls of more than $1 billion dollars.
This cliff would have disastrous consequences on the supply of child care:
Families will face even higher prices and longer wait lists.
Child care providers who have been able to offer pay raises or bonuses to recruit or retain teachers using this relief funding will have to start making tough choices with less resources, risking a mass exodus of highly-trained professionals leaving the field for better pay and benefits at places like Starbucks and Target.
75% of child care providers say that the end of stabilization grants will be devastating to their programs.
At the same time, the child care market has not recovered at the same rate as other essential parts of America's economy. The child care sector nationwide is still down nearly 100,000 jobs, nearly 10% of the workforce, from Feb 2020 levels. In stark contrast, all private sector jobs and nonfarm employment have been recovered.
Even with the relief provided by the child care stabilization program, two-thirds of child care providers are experiencing a staffing shortage that affects their ability to serve families; 52% of those with staffing shortages have been forced to serve fewer children while 37% have had a longer waiting list.
Our goal cannot be to return the child care industry to the pre-pandemic status quo, which was already failing to meet the needs of parents, providers, and businesses alike. Without improvements and investments, child care providers will continue to close their doors, driving up wait times and prices and further devastating working families and the business community.
Subscribe to FFYF First Look
Every morning, FFYF reports on the latest child care & early learning news from across the country. Subscribe and take 5 minutes to know what's happening in early childhood education.