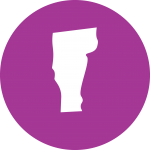 High-quality early childhood education is proven to dramatically improve a child's opportunities for a better future—particularly children from low-income families. If we, as a nation, want to ensure all children have access to high-quality early learning, there must be strong support and partnerships from federal government to extend the reach or fill in the gaps of state efforts and innovation.
This fact sheet provides an abbreviated overview of state- and federally-funded early childhood opportunities in Vermont, which serve more than 20,000 children and families.
"As Governor, my focus is to grow the economy, make Vermont more affordable, and protect the most vulnerable. Early care and learning spans all three goals. An investment in our kids is an investment in our future. With greater focus on early care, I am confident Vermont can offer the best cradle-to-career education system in the country, which is the greatest economic development tool we could have." – Governor Phil Scott (R-VT)
"The best way to both address our educational shortcomings and strengthen our economy over the long term is to invest in our children as early as we possibly can." – Senator Bernie Sanders (D-VT)
Click here to view all state fact sheets.
Download PDF