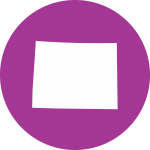 High-quality early childhood education is proven to dramatically improve a child's opportunities for a better future—particularly children from low-income families. If we, as a nation, want to ensure all children have access to high-quality early learning, there must be strong support and partnerships from federal government to extend the reach or fill in the gaps of state efforts and innovation.
This fact sheet provides an abbreviated overview of state- and federally-funded early childhood opportunities in Wyoming, which serve more than 10,000 children and families.
"Child care and early childhood development are a high priority in Wyoming. Improving outcomes for children is a goal I share with my constituents. Children in Wyoming comprise over 26% of the population, which ranks 14th in the nation for the percentage of kids in a state. This is a tremendous responsibility for Wyoming communities and I am committed to strengthening the federal partnership with states and localities as they fund early childhood programs and require high quality standards in the services children receive." – Senator Mike Enzi (R-WY)
"I am passionate about high quality education and have worked to pass measures to increase our high school graduation rate and expand early childhood education opportunities." – Cathy Connolly, Minority Leader for the Wyoming House of Representatives (D-WY)
Click here to view all state fact sheets.
Download PDF