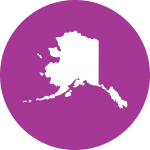 High-quality early childhood education is proven to dramatically improve a child's opportunities for a better future—particularly children from low-income families. If we, as a nation, want to ensure all children have access to high-quality early learning, there must be strong support and partnerships from federal government to extend the reach or fill in the gaps of state efforts and innovation.
This fact sheet provides an abbreviated overview of state- and federally-funded early childhood opportunities in Alaska, which serve more than 20,000 children and families.
"Providing children with the fundamental tools to sustain a lifetime of learning and healthy living is essential to ensuring their success in life. High-quality early education results in improved academic outcomes for children, which results in long-term benefits to and savings for states, schools, and taxpayers." – Senator Lisa Murkowski (R-AK)
"The path to success starts early, in pre-school. If we catch our kids young, when brain development is at its most receptive, we can break the cycle of low test scores, of students being left behind, and of unacceptably high dropout rates. When children enter elementary school better prepared, they are able to learn from the very first day – which translates to greater achievement and greater satisfaction." – Mayor of Anchorage Ethan Berkowitz (D-AK)

Click here to view all state fact sheets.
Download PDF