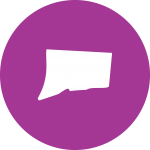 High-quality early childhood education is proven to dramatically improve a child's opportunities for a better future—particularly children from low-income families. If we, as a nation, want to ensure all children have access to high-quality early learning, there must be strong support and partnerships from federal government to extend the reach or fill in the gaps of state efforts and innovation.
This fact sheet provides an abbreviated overview of state- and federally-funded early childhood opportunities in Connecticut, which serve more than 100,000 children and families.
"Early childhood development shapes who a person becomes. Connecticut is working hard to ensure that every child in our state has the proper supports and needed resources to grow and thrive. I… look forward to continued work to make sure all children across our state are cared for, nurtured and given the tools they need to succeed at all stages of their lives." – State Senator Len Fasano (R-CT)
"If we are serious about making early childhood programs available to all needy children, and maintaining our competitive edge on the global stage, we must be willing to fund even bigger investments." – Rep. Rosa DeLauro (D-CT) 
Click here to view all state fact sheets.
Download PDF