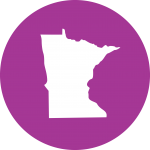 High-quality early childhood education is proven to dramatically improve a child's opportunities for a better future—particularly children from low-income families. If we, as a nation, want to ensure all children have access to high-quality early learning, there must be strong support and partnerships from federal government to extend the reach or fill in the gaps of state efforts and innovation.
This fact sheet provides an abbreviated overview of state- and federally-funded early childhood opportunities in Minnesota, which serve more than 150,000 children and families.
"Early childhood education is an important tool that can inspire a love of learning in young children. In addition to preparing them for kindergarten, it also gets them on the pathway to reading at grade level by grade 3, an important indicator of high school graduation. Research tells us that providing quality, early learning experiences for at-risk children is an investment that provides a high return, as more at-risk children become successful students and participants in the workforce." – State Representative Jenifer Loon (R-MN)
"Every time we invest in our children's education, it pays dividends for our nation's prosperity and competitive standing in the world. High-quality early care and education can improve child outcomes, ease the burden on public resources, and increase future productivity and growth of a child." – Senator Amy Klobuchar (D-MN)
Click here to view all state fact sheets.
Download PDF