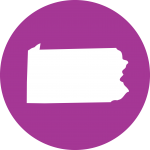 High-quality early childhood education is proven to dramatically improve a child's opportunities for a better future—particularly children from low-income families. If we, as a nation, want to ensure all children have access to high-quality early learning, there must be strong support and partnerships from federal government to extend the reach or fill in the gaps of state efforts and innovation.
This fact sheet provides an abbreviated overview of state- and federally-funded early childhood opportunities in Pennsylvania, which serve more than 400,000 children and families.
"There is concrete evidence that children who participate in early education programs see immediate and long-term benefits. They are less likely to fall behind or drop out of school and more likely to become productive, contributing members of their communities and of our highly-skilled workforce." – State Senator Patrick Browne (R-PA)
"Investing in early education will help children learn more now so they can earn more later. High quality pre-k gets children off to a strong start in life and strengthens the foundations of our economy. A bipartisan consensus on early education is emerging across the country. We must take advantage of every opportunity to promote critical advancements in pre-k across the country." – Senator Bob Casey (D-PA)
Click here to view all state fact sheets.
Download PDF