UPDATE: The Administration for Children and Families (ACF) at the Department of Health and Human Services (HHS) announced additional three-year renewal grants are being awarded to South Carolina, Nebraska, and Kansas. The table below has been updated to reflect the newest grant awards.
Big news! 20 states and territories have been awarded three-year renewal grants through the Preschool Development Grant Birth through Five (PDG B-5) program to implement the strategic plans they developed using first-year planning grants awarded in 2018. Additionally, 6 states and territories that did not previously received PDG B-5 funding, were awarded initial planning grants to complete needs assessments and strategic plans. What's more, with the increase in funding for the PDG B-5 program approved by Congress this week – from $250 million to $275 million – it is expected that ACF will award renewal grants to at least three additional states.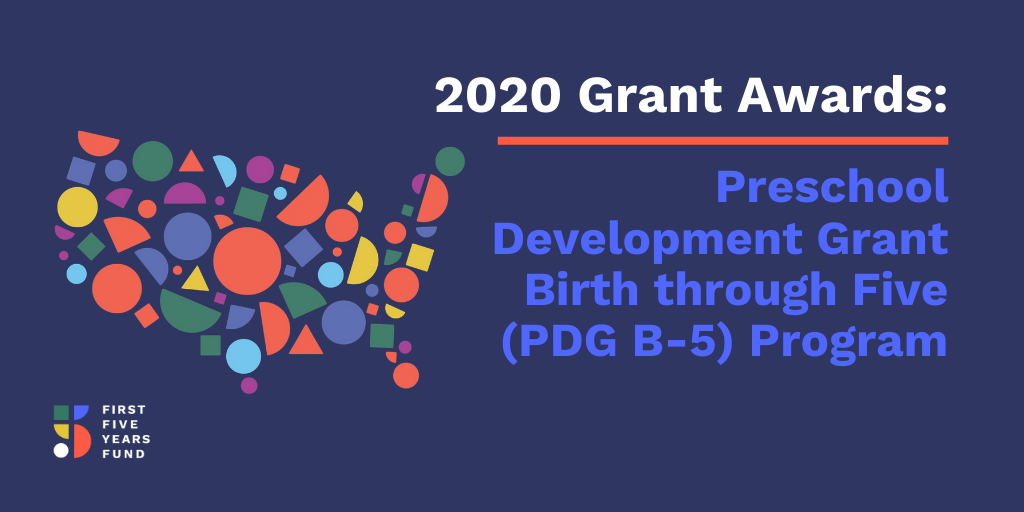 PDG B-5 is a competitive federal grant program established in December 2015 as part of the bipartisan Every Student Succeeds Act (ESSA). The goal of PDG B-5 is to help states: maximize parental choice, improve transitions within early learning and care programs, and improve the overall quality of programs. These goals are intended to improve states' existing early childhood landscapes by building upon active federal, state, and local early care and learning investments. The first year of grant funding was awarded to 46 states at the end of 2018, and funded state-level needs assessments and strategic plans to optimize existing early childhood education resources.
In September of 2019, the Administration for Children and Families (ACF), in coordination with the Department of Education, released two funding opportunity announcements (FOAs) for the next year of funding for the PDG B-5 program. With these announcements, states and jurisdictions that were awarded first-year grants in 2018 began applying for renewal grants to implement their plans, while states that did not receive planning grants in 2018 could re-apply or apply for initial grants.
These renewal grants will empower states to build on their work from year one, coordinate existing early childhood services and funding streams, and serve more children effectively in a mixed delivery system. There was an overwhelming interest in the renewal grant opportunity, with all 46 states who received initial funding applying for continued funding. In September, FFYF and other advocates sent a letter to ACF outlining recommendations for the renewal FOA. The recommendations included: continuity of funding levels, encouraging partner engagement, and providing technical support to states.
FFYF is excited to see how states leverage their planning and implementation grants. This post will be updated as more information becomes available.
Jurisdictions Winning Renewal Grants
| | |
| --- | --- |
| Jurisdiction | Amount |
| Alabama | $11,178,750 |
| California | $13,414,500 |
| Colorado | $11,171,969 |
| Connecticut | $8,943,000 |
| Florida | $13,414,500 |
| Georgia | $3,721,584 |
| Illinois | $13,414,500 |
| Kansas | $8,943,000 |
| Louisiana | $11,178,750 |
| Maryland | $8,942,996 |
| Michigan | $13,413,552 |
| Minnesota | $8,941,881 |
| Missouri | $11,176,961 |
| Nebraska | $8,943,000 |
| New Hampshire | $8,942,186 |
| New Jersey | $11,178,750 |
| New York | $13,414,500 |
| North Carolina | $13,414,500 |
| Oregon | $8,866,711 |
| Rhode Island | $8,943,000 |
| South Carolina | $11,146,654 |
| Virginia | $11,178,750 |
| Washington | $11,175,769 |
Jurisdictions Winning Initial Planning Grants
| | |
| --- | --- |
| Jurisdiction | Amount |
| Guam | $1,000,000 |
| Idaho | $3,343,592 |
| Commonwealth of the Northern Mariana Islands | $2,125,989 |
| Puerto Rico | $5,647,875 |
| Wisconsin | $9,999,809 |
| Wyoming | $2,098,776 |