HHS Undertakes Nationwide Child Care Listening Tour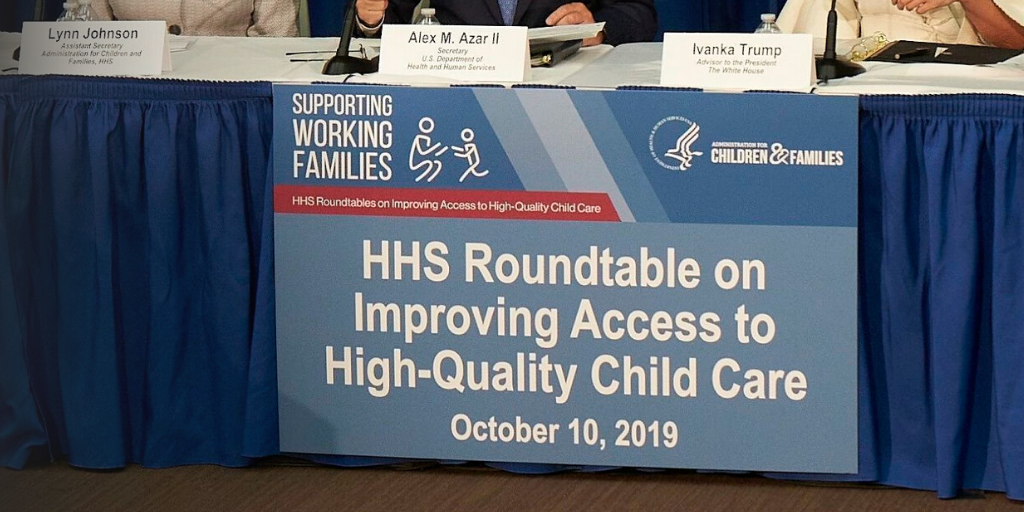 The Department of Health and Human Services (HHS) just wrapped up a nationwide, 10-city listening tour, which featured roundtable discussions with parents, employers, child care providers, states and localities, tribal governments, and business leaders about how to better support working families who struggle to find and afford high-quality child care.
"The information and feedback we collect during these roundtables will be used to inform federal policy proposals, research, technical assistance, and legislation to help us expand access to affordable, quality child care," wrote Lynn Johnson, HHS Assistant Secretary for the Administration for Children and Families.
The HHS officials leading the discussions, including Secretary Alex Azar, Deputy Secretary Eric Hargan, and Assistant Secretary Lynn Johnson, as well as Dr. Deborah Bergeron, Director of the Office of Head Start, among others, were often joined by other administration, Congressional, and state leaders for various stops on the tour, including Ivanka Trump and U.S. Senator Roy Blunt (R-MO).
In a recent post on the HHS blog, Deputy Secretary Hargan writes that, "many working parents find it difficult to find and afford child care that meets their needs. And they often face tough choices in balancing work and caring for their children."
One topic that was discussed throughout the tour was the Child Care and Development Block Grant (CCDBG) program, which provides federal funding to states for child care subsidies for low-income families with children under age 13, as well as flexibility to pair state and federal funds to improve the quality of child care available to families within existing state and local systems. As Deputy Secretary Hargan notes, the recent historic funding increase to CCDBG has allowed states to provide increased subsidy rates for child care providers, reduce waiting lists of families needing child care subsidies, support quality and professional development for providers, and increase the number of children served with subsidized child care.
We look forward to engaging new and existing stakeholders to increase access and affordability to high-quality child care, so more families can take full advantage of the opportunities this economy affords while their children receive the great care they deserve.

HHS Deputy Secretary Eric D. Hargan
The administration also says it has heard from almost a thousand stakeholders across the country about important child care objectives and priorities through a Request for Information released this year.
Last week, the White House announced that Ivanka Trump will host a summit in December on a number of issues important to working families, including access to quality child care and paid family leave. According to news reports, the lessons learned from the HHS child care roundtable tour will inform conversations and agenda items at the White House summit.
Learn more about HHS' national child care roundtable tour here and here.
Subscribe to FFYF First Look
Every morning, FFYF reports on the latest child care & early learning news from across the country. Subscribe and take 5 minutes to know what's happening in early childhood education.