Understanding New Unemployment Benefits Included in the CARES Act Passed by Congress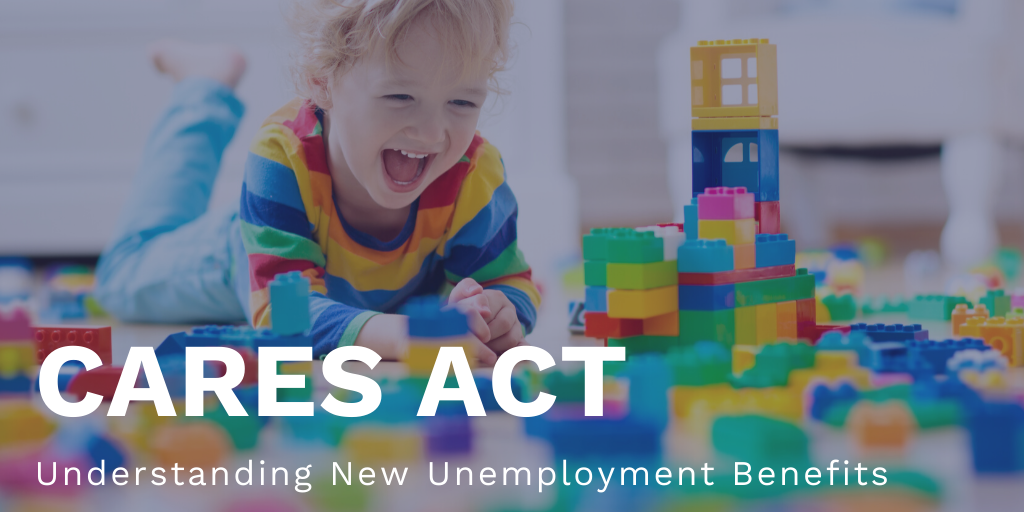 Last week, Congress passed the Coronavirus Aid, Relief, and Economic Security (CARES) Act, which provides relief for families, small businesses, and major industries, including child care providers.The support provided to the child care industry under this expansive economic stimulus package is intended to allow providers to continue operations during and after this crisis and ensure working parents on the frontlines of this pandemic can access child care.
Child care providers, already operating on razor-thin margins even before this crisis, are facing declining enrollment rates and mandatory closures, forcing many to make difficult choices. These challenges are threatening many facilities to close permanently. In a recent survey conducted by NAEYC, nearly one-third say they would not survive a closure of more than two weeks. This will have a devastating impact on the child care workforce as many lose their jobs and may not be able to return once the economy normalizes after the crisis.
While a primary objective of the CARES Act is to provide relief to employers, including child care providers, to maintain their ability to pay their employees, the bill also includes provisions to address the needs of workers who have been furloughed or laid off due to the coronavirus. The CARES Act expands unemployment benefits and creates a new Pandemic Unemployment Assistance program, which provides assistance to those who traditionally would not qualify for unemployment. These changes will allow early educators and child care workers who have temporarily lost their jobs to support their families in these uncertain times.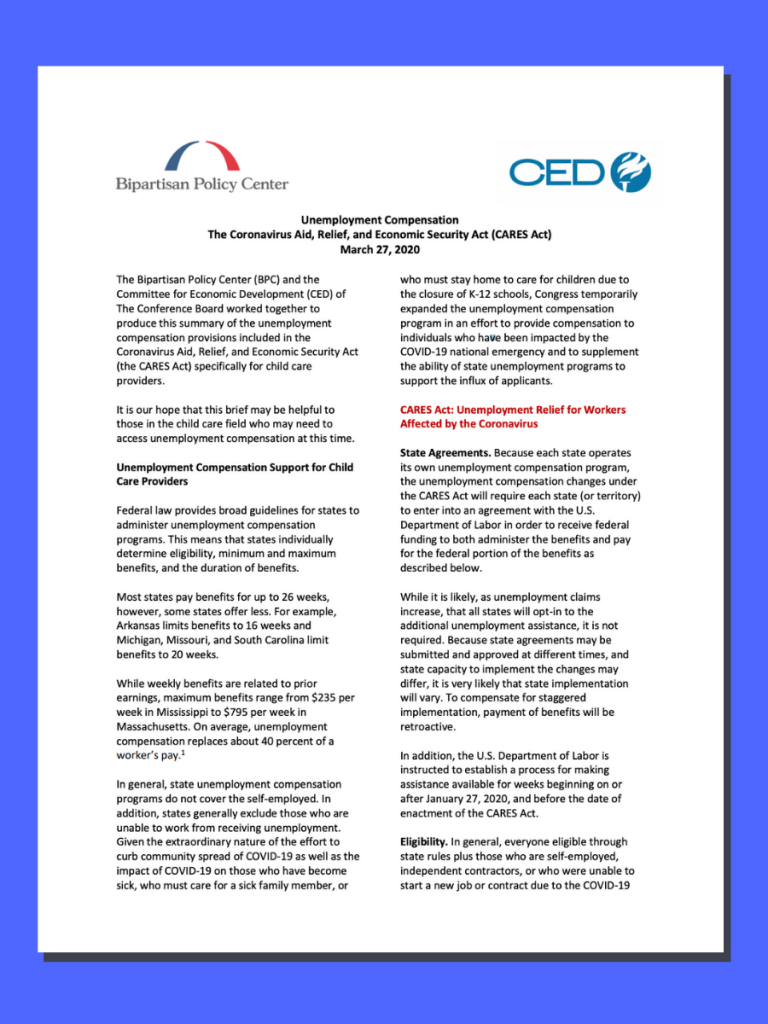 While we struggle with the far-reaching impact of this pandemic, millions of Americans will file for unemployment insurance and put additional strain on the system. Successful implementation of the policies included in the CARES Act will give substantial relief to the child care workforce.
The Bipartisan Policy Center and the Committee for Economic Development put together a helpful resource for providers and advocates in the child care industry summarizing the unemployment compensation provisions included in the CARES Act and outlining ways to access the new resources.
Unemployment Insurance
Unemployment insurance, administered jointly by the state and federal government, provides cash benefits to eligible workers who are unemployed. Each state administers a separate unemployment insurance program, meaning states determine eligibility, minimum and maximum assistance, and duration of benefits. The CARES Act continues this structure, meaning individual benefits for those who may receive assistance under their state unemployment program will continue to vary. However, regardless of state, an additional $600 per week in temporary federal Pandemic Unemployment compensation will be added to an individual's weekly benefit amount.
The temporary Pandemic Unemployment Compensation program provides unemployment benefits to those who are not eligible for existing state programs and are unable to work for reasons related to COVID-19. This includes those who have been diagnosed with or exposed to COVID-19, those with related caregiving responsibilities, and self-employed individuals or independent contractors. The Pandemic Unemployment Compensation program will fund states to pay these workers both a base benefit based on earnings and rules from their state as well as the $600 weekly supplement.
Short-Term Compensation for Reduced Work
Additionally, CARES includes provisions that may help a large number of workers who are not laid off, but who have had their hours reduced due to the coronavirus. In these cases, states may offer Short-Time Compensation programs, which allow employers to enter into an agreement with state labor departments to reduce hours instead of laying people off entirely. Eligible workers are then eligible to receive partial unemployment benefits to help fill the gap. Currently, 27 states have STC programs, which are completely funded by state, but under the CARES Act, the federal government would temporarily provide funding for states interested in operating such programs for impacted workers.
Read the full BPC report here.
Subscribe to FFYF First Look
Every morning, FFYF reports on the latest child care & early learning news from across the country. Subscribe and take 5 minutes to know what's happening in early childhood education.