Calls for Child Care Relief Intensify, Providers Continue Struggling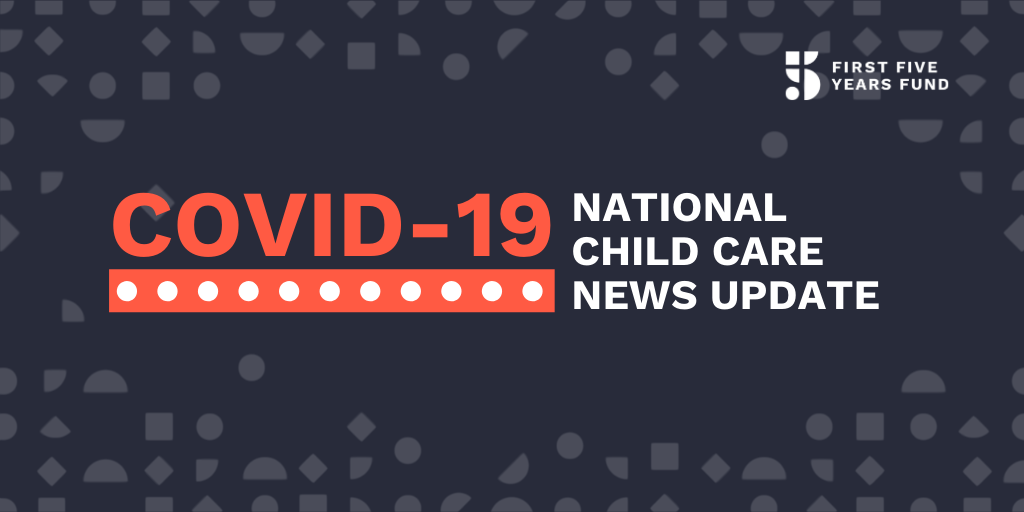 Extended stay-at-home orders and massive declines in enrollment have forced nearly half of child care providers to close their doors; those still operating or reopening will have to operate on financial losses for months to come as a result of new social distancing requirements and low enrollment, as parents slowly return to work.
The situation varies from state to state, and even from community to community. Here's a look at recent news coverage and analysis of the nation's child care crisis.
Yesterday, 41 state and local Chambers of Commerce urged Congress to provide targeted assistance to child care providers in its next legislative package. The letter follows recent efforts by the First Five Years Fund and other national advocacy partners to encourage lawmakers to include dedicated, specific relief for the child care industry to prevent a collapse. The business leaders wrote, "To ensure that more Americans can quickly return to work and to support our nation's overall economic recovery, Congress should provide timely, targeted, and temporary emergency assistance to licensed childcare centers and homes." Read the full story here.
Citing recent survey data from the National Association for the Education of Young Children (NAEYC), Marketplace reports on the growing struggle parents are facing as they return to work with no child care available in their communities. With most child care providers saying they are losing income and cannot survive a closure of a month of less without support, Black-owned providers and those serving low-income communities are expected to be the hardest hit, exacerbating gender and racial inequality already seen in the child care industry. Read more here.
A New York Times report highlights the ways parents are being forced to quickly adapt to changing child care availability as thousands of providers are forced to close their doors due to declining enrollment and increasingly slimmer margins. As these facilities close, parents seeking other forms of child care are paying higher costs and those who cannot afford to pay more are at a greater risk of losing their jobs, impacting households and businesses. Read more here.
Understanding the critical role child care plays in our economy, supporting every other industry, former Treasury Department economist Ernie Tedeschi stated the current crisis clearly, "Child care could be the next big headwind to hit the [United States]. Child care is the lynchpin of so much else in the economy." Read more in the Los Angeles Times here.
The harsh realities of the effects of the coronavirus pandemic on the child care industry are being played out in states across the country as parents plan to return to work.
The Honolulu Civil Beat is reporting that Hawaiian teachers, ready to return to work and serve their communities, are facing the same challenges as other parents who are juggling returning to work and finding high-quality child care. In 150-plus pages of testimony sent to the state education board, teachers from across the state are sounding the alarm about the growing crisis of limited child care and pre-k spaces for their children.
A recent survey of Kentucky's child care providers found that as many as 15 percent may close permanently due to the COVID-19 crisis, according to WTVQ. Providers are calling for significant state and federal financial support to prevent closures and ensure the child care infrastructure in the state is sustained immediately and in the long term.
Stories from Massachusetts and Louisiana paint a stark picture of the challenges both child care providers and families are going to face as facilities are allowed to reopen. Enrollment caps and necessary safety measures designed to protect the health of young children and child care providers are causing additional financial strain felt by the entire industry. State and national advocates are raising the alarm that without relief, these providers will be forced to close, causing a ripple effect with far-reaching consequences to the entire economy, which is supported by the child care sector.
Be sure to subscribe to FFYF's daily early learning and care news clips report for the latest stories from across the nation, right in your inbox. We will continue sharing news and analysis with you as it happens.
Subscribe to FFYF First Look
Every morning, FFYF reports on the latest child care & early learning news from across the country. Subscribe and take 5 minutes to know what's happening in early childhood education.