New Report Offers Additional Data on Pandemic's Impact for Child Care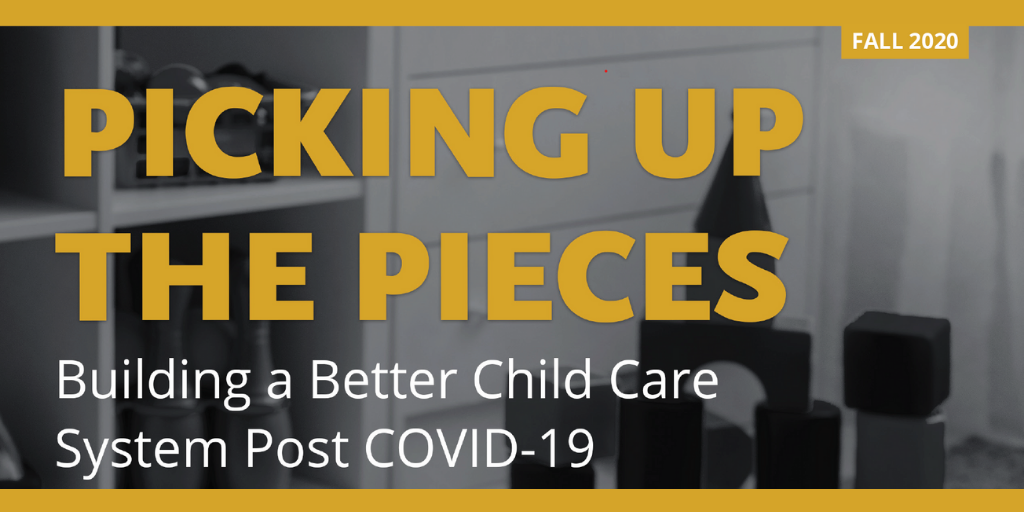 Last week, Child Care Aware of America released a new report, Picking Up the Pieces: Building a Better Child Care System Post-COVID-19. The report outlines the pandemic's impact on child care access, quality, and affordability. Within the report there are several resources to explore including: videos from providers and families, sections dedicated to states comparing affordability, supply and quality initiatives, as well as county level data for six states: Illinois, Minnesota, Missouri, Oregon, Washington and Wisconsin.
This new report leveraged Child Care Resource and Referral agencies to collect data about the state of child care before and during the pandemic. Building on findings from other organizations, Picking Up the Pieces found providers struggling to remain open or reopen, declining enrollment, and increasing costs to care for children. According to the report, in a July 2020 survey, 35% of centers and 21% of family child care programs remained closed nationwide. The report also found that as of July, 17 of 32 states had lost more than 25% of their child care capacity. Lasting closures will have dramatic consequences for our nation's economic recovery. 
In addition to offering data about the current state of the child care industry, the report suggests three key components for rebuilding the child care system. These tenets include: public investment, more robust and uniform data, and resources that support families, children, and child care providers. This includes providing consumer education and ensuring providers can secure needed personal protective equipment and cleaning supplies.
A robust child care system is vital for American families. In fact, 84% of American voters say high-quality, affordable child care for families with young children is an essential service — just like healthcare and education.
To read the complete report click here.
Subscribe to FFYF First Look
Every morning, FFYF reports on the latest child care & early learning news from across the country. Subscribe and take 5 minutes to know what's happening in early childhood education.