After Decades of Instability and Underfunding, New Data Points to Uncertain Future for Child Care Sector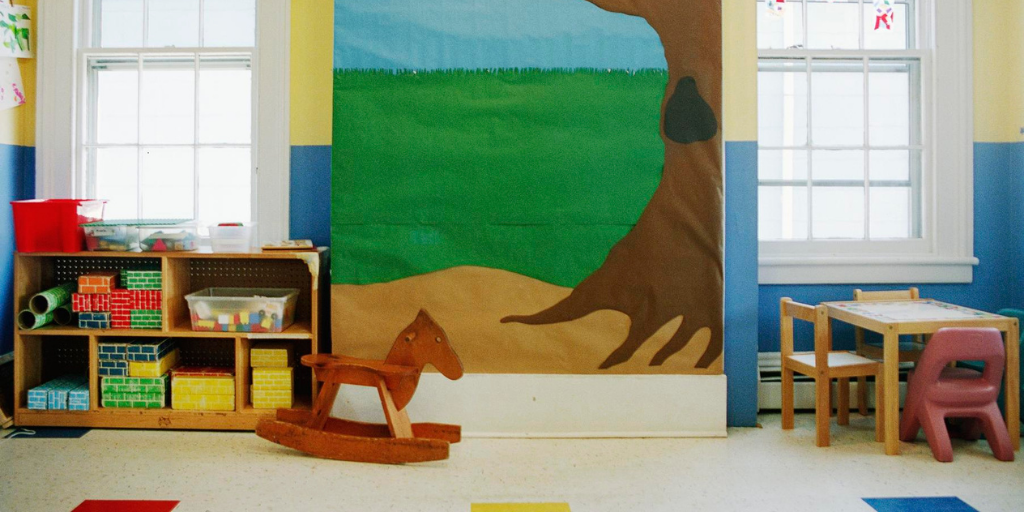 The results of a new survey of 7,500 early childhood educators from the National Association for the Education of Young Children (NAEYC) paint a grim picture for the future of the child care sector in America. Even after crucial federal relief funding was successful in keeping many early learning facilities in business through the pandemic and preventing the industry from collapsing entirely, the systemic challenges that have plagued the child care market for decades – for parents and providers alike – are now coming to a head.
The existing structure of America's child care market is unsustainable. Most parents can't afford the high cost of care. Half of Americans live in an area without quality care options at all. And because high-quality early care & education is such an expensive service to deliver, providers of all sizes are faced with an entirely untenable business model that often translates into near-poverty wages for early educators, just to be able to charge tuition rates that parents can afford.

Now, due overwhelmingly to the low wages paid to well-trained early educators for a very labor-intensive job, the profession is struggling to recruit and retain workers. According to the data from NAEYC's latest survey:
4 out of 5 respondents from child care centers said that they had a staffing shortage, and 15 percent reported a "major shortage" of 6-15 fewer workers than needed.

50% of programs that have been impacted by staffing shortages are serving fewer children
One-third have a longer waitlist or are unable to open classrooms
24% have reduced their operating hours

78% of respondents identified low wages as the main obstacle to recruitment of educators, and 81% said that insufficient pay is the main reason educators leave the field.

71% of respondents see the public schools as the most common alternative to working in ECE programs, followed closely by retail and warehouse jobs.



More than 1 in 3 respondents said they were considering leaving or shutting down their child care programs this year; this percentage increases for minority-owned programs, more than half of whom are considering permanent closure.


In the context of programs facing staffing challenges and parents facing ongoing pandemic uncertainty, programs that are open are operating at an average enrollment rate of 71% of their licensed capacity, with 48% of enrolled children attending on an average day. This is unsustainable for an industry that must operate at close to full capacity to remain profitable.
Without question, federal funding is needed to build a child care sector that works for working families and the early educators they rely on. In April, the White House unveiled the details of President Biden's American Families Plan, which includes a sweeping reform proposal with a significant, sustained investment in America's child care and early learning system that would build on existing federal-state partnerships. Now is the time to address the systemic challenges in America's child care market to support children, families, providers, and the economy.
Additionally, as the COVID-19 pandemic placed increased pressure on providers — many were forced to close their doors while others struggled to remain open and serve children due to significant revenue loss — the survey data reveals that federal pandemic relief funding has provided crucial stability to providers, especially in tandem with temporary regulatory changes enabling states to pay programs based on enrollment rather than attendance. In order to provide stability for children, families, and providers, states should make these changes permanent.
Relief funding to stabilize child care centers is paramount as "46% of respondents—and 54 percent of minority-owned programs—would have closed during the pandemic without federal assistance."

"Only 33% of respondents working in centers and 24% of family child care homes said they did not take on additional debt for their programs during the pandemic."
NAEYC CEO Rhian Evans Allvin echoes the significance of this data in pushing for comprehensive early childhood funding. She says, "So many child care programs are facing the same problems. Federal relief funds have helped programs weather the worst of the pandemic, but they haven't fixed the underlying economic conditions in early childhood education that led to the crisis in the first place and which led to the closure of thousands of programs. This is the moment to address those issues so that early childhood education is on sound footing for decades to come." To view the full brief and survey data check out NAEYC's survey information here.
Subscribe to FFYF First Look
Every morning, FFYF reports on the latest child care & early learning news from across the country. Subscribe and take 5 minutes to know what's happening in early childhood education.