Celebrating Hispanic Heritage Month: A Deep Dive Into Dual Language Learners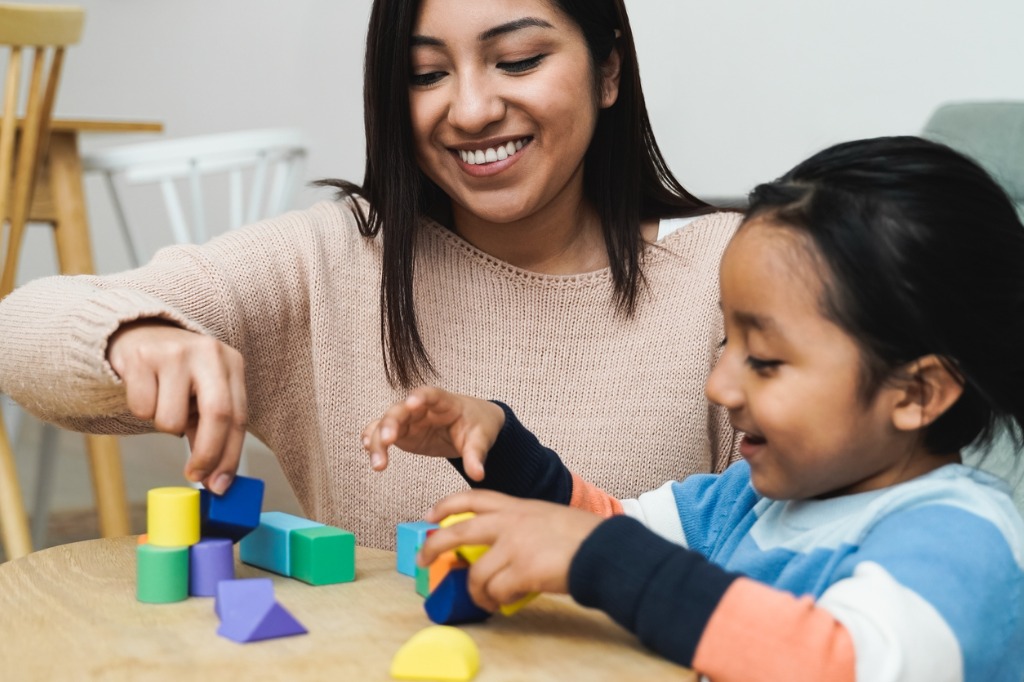 As FFYF commemorates Hispanic Heritage Month, we take a moment to reflect on the remarkable contributions of Latinx communities across the United States.
In recognizing and celebrating our nation's Latinx people, communities, and culture, one aspect deserves special attention—the growing influence of Latinx children and their parents in shaping the future of early childhood education, and the need to ensure federal programs are responsive to the linguistic needs of young dual language learners (DLLs) and their families.
There are 63.7 million Hispanics in the United States as of July 1, 2022, making it the nation's largest racial or ethnic minority — comprising 19.1% of the total population. Currently, one in four children are Latinx. As the fastest-growing population, this figure is projected to increase to almost one in three by 2050. 
Early Education and Dual Language Learning Are Top of Mind for Latinx Parents
A recent study of 1,300 Latinx parents with children aged prenatal to five years old was conducted by UnidosUS in partnership with Abriendo Puertas to gather, uplift, and infuse the voices of Latinx families. Latinx families named access to quality child care, pre-K, and bilingual programs as top concerns. In addition to support for increased funding for early childhood programs, increased compensation for caregivers (85%), and more funding and expanded subsidies for Head Start programs (89%), parents showed strong support for the importance of dual language early education. In fact, the report found that 65% of Latinx parents would enroll their child in a bilingual, language immersion, or dual-language program if one were available, but only 52% of parents have enrolled or are planning to enroll their young children in one of these programs. The families surveyed expressed an urgent need to expand the availability of bilingual early education programs for children under the age of five.
How Can Congress Support Dual Language Learners?
One-third of all U.S. children ages 0-5 are DLLs. While DLLs speak a wide diversity of languages, Spanish is the most common. Studies suggest that DLLs may benefit even more than their peers by participating in high-quality early care and education (ECE) programs. There are several federally funded programs that support the needs of DLLs, however, inequities and gaps in services still remain. Read on to learn more about how several key federal early learning programs support DLLs and what Congress can do to strengthen America's ECE system for the millions of young children and their families who speak another language.
As the main federal early learning program that supports parents' access to child care, CCDBG requires each state to submit a Child Care and Development Fund (CCDF) Plan every three years. This provides a description of, and assurance about, the grantee's child care program and all services available to eligible families, including information on supports for children with Limited English Proficient (LEP) families and child care providers.
For example, Lead Agencies must report on the primary language spoken at home of eligible families. States must establish a consumer-friendly and easily accessible website that ensures the widest possible access to services for families who speak languages other than English. Supportive strategies include providing applications and informational materials in non-English languages, maintaining a website with non-English language versions, and making bilingual outreach workers, caseworkers, or translators available to families, among others. Considering Spanish is the language most spoken at home after English, these strategies particularly support Latinx children and families.
Opportunities to Strengthen Support
According to a report from the Migration Policy Institute, although the steps outlined above are required in state plans, "the practices themselves are not defined as requirements for program operations. As a result, many states do not indicate they use all of the enumerated practices related to outreach and serving LEP families in their CCDF state plans." Given CCDBG funding flows from the Administration for Children and Families (ACF), to state lead agencies, and then to grantees, it can be difficult to track how language practices are implemented on the ground.
Head Start collects robust data on DLLs and staff's linguistic capabilities. There are 308,750 DLL children enrolled in Early Head Start and Head Start, 80% of whom speak Spanish. 84% of all Head Start staff who are proficient in languages other than English speak Spanish. 
The Head Start Program Performance Standards include specific requirements for programs to support children who are DLLs. Applicants for Head Start funding must show their plan to "meet the needs of limited English proficient children and their families, including procedures to identify such children, plans to provide trained personnel, and plans to provide services." In November 2016, Head Start updated the Performance Standards to improve a wide variety of provisions, including major improvements in services related to DLLs and their families. Among others, the standards include that:
Head Start not only supports DLLs prenatally to age five, but also facilitates their transition into the K-12 school system. While all young children need support in the transition to elementary school, DLLs require additional support related to language learning and cultural experiences. Head Start notes that families of DLLs may be immigrants, and be unfamiliar with U.S. school systems, either because this is their first child to transition to elementary school or because their prior experience occurred in a different country or school system. 
Opportunities to Strengthen Support
Head Start collects mandatory annual data through the Program Information Report (PIR). According to data from the 2020–2021 academic year, 32% of families enrolled in Head Start or Early Head Start either spoke a primary language other than English at home or had participating children who were acquiring another language in addition to the primary home language of English. This demonstrates how Head Start is equitably serving DLLs, as this percentage is roughly on par with the 33% of all children ages birth through five nationwide who are DLLs. 
Continued, robust funding for Head Start/Early Head Start is essential to provide DLLs and their families with the critical supports they need to thrive. Increased funding can help to:
Serve DLLs earlier and more extensively by expanding access to programs
Embrace dual-generation programming that encourages cultural diversity and knowledge
Support a culturally representative bilingual workforce
The Preschool Development Grant Birth through Five (PDG B-5) program is a competitive federal grant designed to improve states' early childhood systems by building upon existing federal, state, and local early care and learning investments.
In the most recent round of applications, 27 grantees identified DLLs as a vulnerable or underserved population. PDG B-5 funding allows states to support DLLs, and grantees are doing so through a variety of avenues such as engaging families as experts in their child's language and culture, and promoting the needs of DLL children and their families in local, state, and federal programs and policies, among others. Learn about what strategies states are pursuing here. 
Opportunities to Strengthen Support
While PDG B-5 is providing crucial support for DLLs, there is more work ahead. Many states' needs assessments identified obtaining data on DLL children, ages 0-5, as a significant gap. Most states do not collect or analyze data on young DLLs, resulting in inadequate and often inaccurate information used by program and policy leaders. Additionally, research highlights the individual needs of DLLs and their families, yet only 15 of the 27 states that include DLLs as a vulnerable population in their application, identified specific activities to support families and/or practitioners of DLLs.
Many activities related to supporting DLLs, their families, and ECE professionals in PDG B-5 applications are one-time activities, such as translating resources for families and practitioners. Ongoing funding is needed to develop a sustainable support structure that embeds racial, ethnic, cultural, and linguistic diversity at the core of developmentally appropriate practices.
MIECHV provides federal funds to states, territories, and tribal entities for voluntary, evidence-based home visiting services. Voluntary home visiting programs pair families who often have limited support and resources with trained home visitors such as nurses, social workers, and educators. Home visiting is well-positioned to provide resources and supports for many families with DLLs. It plays a vital role in reaching otherwise isolated parents, helping families navigate unfamiliar systems, and connecting households to a range of beneficial support services.
Home visitors support DLLs as they are specifically required to:
Pursue research-based strategies and activities for children who are dual language learners that recognize bilingualism and biliteracy as strengths.
Communicate in a family's home language or use an interpreter under the Early Head Start – Home Based Program Option.
Opportunities to Strengthen Support
Only 3 – 5% of all eligible families are served by MIECHV and while families with DLLs can particularly benefit from the program, they are underserved. MIECHV prioritizes serving certain populations, including families with low incomes, pregnant women under age 21, and families with a history of child abuse or neglect, among others. MIECHV does not list immigrants or families who speak a language other than English at home as priority service populations. However, according to several states' 2020 needs assessments, families speaking languages other than English were enrolled and remained in programs at lower rates compared to families who primarily speak English in the home. Several states reported struggling to provide services in diverse communities where less common languages are spoken due to a lack of interpretation capacity and multilingual home visiting staff, among other limitations.
Programs funded by MIECHV do not collect data on the home language and most states don't include home languages spoken or English language proficiency in their state needs assessments. The diversity of services provided through MIECHV models, paired with limited data collection on implementation, can make it difficult to determine how home visiting programs are taking steps to provide language access. MIECHV was recently reauthorized and expanded to allow access to more eligible families by doubling federal investments over 5 years and reaching $1.4 billion in FY 2027. This critical funding has the opportunity to improve services for DLLs.
What's Next?
Our early education systems need to evolve to meet the unique needs of DLLs and celebrate their rich cultural diversity. Research shows that Latinx children, many of whom come from Spanish-speaking families, have disproportionate burdens in accessing child care relative to eligible children from other racial and ethnic backgrounds. These families make up approximately 35% of those eligible for subsidized child care, but just 20% of the population served. This is likely, in part, because there is a lack of available care that meets their cultural and linguistic needs.
Reimagined federal policy considerations are essential to ensuring equitable access to high-quality early childhood education, particularly for Latinx children. This includes increased funding for these key federal programs that promote culturally and linguistically sensitive curricula and outreach, bilingual education, and support for working parents to access quality care.
Subscribe to FFYF First Look
Every morning, FFYF reports on the latest child care & early learning news from across the country. Subscribe and take 5 minutes to know what's happening in early childhood education.